I'm a little bit concerned at how far a little good PR goes for terrorists and dictators. Two cases in point today.
I saw some pictures of members of Islamic Jihad protecting Catholic churches in the West Bank the other day. Here's a couple of pictures so you get the idea.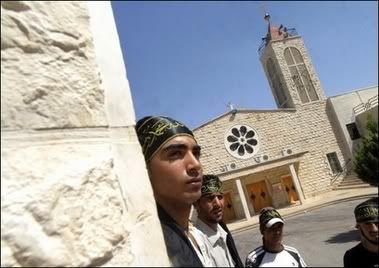 Members of the Islamic Jihad militant organizations guard a church in the village of Zabatiyeh, close to the northern West Bank city of Jenin. Pope Benedict XVI has sought to mollify Muslim anger, saying he was "deeply sorry" for the outrage sparked by his recent remarks on Islam and stressing they did not reflect his personal opinion.(AFP/Saif Dahlah)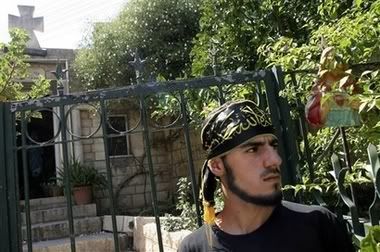 A Palestinian militant from Islamic Jihad stands as protection in front of the Deir Al Lateen Roman Catholic church in the northern West Bank village of Al-Zababedah near Jenin town, Sunday, Sept. 17, 2006. Members of the militant Islamic group in the village claimed that they would prevent anyone from vandalising Christian sites in the area. Two West Bank churches were set afire early Sunday as a wave of Muslim anger over comments by Pope Benedict XVI construed as anti-Islam grew throughout the Palestinian areas.(AP Photo/Mohammed Ballas)
I didn't think a whole lot of it. On one hand I thought it was good that the churches were being protected. But the overriding thought in my head was that this was still
Islamic Jihad - a terrorist organization
, and they are responsible for the murders of many innocent people. No good deed (or good PR move) can change that fact for me.
After that I sort of forgot about it because I didn't see what they were doing as some great thing for the Catholic or Christian community. So yesterday I'm checking out the Phatmass Phorums and low and behold there is a
thread
dedicated to this topic. For the purposes of full disclosure I'm isilzha.
I was surprised at how well recieved this was. I don't know, maybe its just me, but showing members of Islamic Jihad does not prove to me that all Muslims are not bad. I don't hold the belief that all Muslims are bad, but this example does not do it for me. What this does do for me is make me realize how far a little PR goes.
My second little example of PR paying off is our old friend from Venezuela Hugo Chavez. Before I left for work today (this was 11ish) I was watching live footage of Hugo being warmly recieved at a church in Harlem. I didn't have a chance to see the speech, but I was watching how the crowd was treating him. People were cheering and waving and a little girl was sitting on his lap. What Hugo Chavez could possibly have done for these people to make them love him so much? Apparently he was there as part of his Oil-for-Poor program.
I was just reading an
article
on Fox News about the trip, since I didn't see the whole thing. Apparently he was introduced by Danny Glover (no surprise there). During his speech he repeated the references to Bush as the devil, which according to the article got both boos and cheers. But this is more to what I find amazing. "The crowd chanted "Chavez, Chavez, the people are with you" in Spanish as he walked into the Mount Olivet Baptist Church on Lenox Ave. in Harlem". Apparently a little cheap gas is enough for the American people to cheer a two-bit third-world dictator.
I hope I'm just reading these two events wrong. Perhaps the folks on phatmass weren't forgetful that Islamic Jihad murders innocent people. And perhaps I shouldn't be so concerned by the crowd that went to go see Chavez. But it does make me wonder.