I had followed the story of the
ex-Russian spy who was poisoned
a little bit, but not too much. I had seen his picture on the web, and I just sort of assumed that he was an older man. It was only until yesterday in the article I saw saying that he had died did I see a picture of him before.
Before.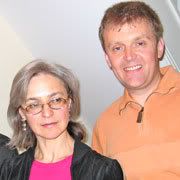 After.
By the way, the woman he's pictured with in the first picture is Anna Politkovskaya, a well-known Putin critic whose murder he was investigating.
I'm not really well versed in stories of Russians poisoning opposition, but this story reminded me of course of
Viktor Yushenko
, who was posioned with dioxin, while running for President in Ukraine in 2004.